Understanding the Essence of Hinduism
Hinduism is one of the most misunderstood religions of the world. Bhagvad Gita is one of the holy books of Hinduism, and I learned one of the most powerful statements of my life from it "Finding the truth is one's own responsibility." The book is about an ongoing dialogue between one and one's conscience. It is time we learn about it and speak from knowledge and avoid passing judgments against fellow Americans.
Prejudice is a negative energy that robs us our peace and tranquility. The more we know about other's faith, the freer we would become from Prejudices and happier we would be as humans.  Learn about the 13 different faith traditions first hand from their practitioners.
Seminar: Understanding Hinduism
Date: Tuesday, March 07, 2017
Time: 1:00 – 3:30 PM
Venue: The Church of Scientology National Affairs Office,
Address: 1701 20th Street NW, Washington, DC 20009
Refreshments will be provided
Presenter: **
Moderator: Dr. Mike Ghouse
Hosted by: The Church of Scientology National Affairs Office, Washington, DC
Presented by: The Center for Pluralism, Washington, DC
RSPV: https://www.eventbrite.com/e/hinduism-understanding-hinduism-seminar-tickets-32047632331
Details:  https://centerforpluralism.com/hinduism-understanding-the-essence-of-hinduism/
Coming up: 11 More Seminars on 11 different religions – check up  https://centerforpluralism.com/workshops/

Years ago, the Russians had banned this beautiful book, and I am pleased to have challenged and stirred activism, not sure if our work contributed, but the order was reverses and Bhagvad Gita was available on shelves again. http://www.theghousediary.com/bigotry-against-hinduism-in-russia/
Understanding Religion, all the beautiful religions is our program. I would rather hear about your faith from you than someone else. Today, learn about Hinduism from a practicing Hindu and not someone else.

Why should you learn about Hinduism?
When we live as neighbors, fellow workers, students, players, activists and inhabitants in the same city and in the same community, it behooves us to learn about each other's beliefs, motivations, moments of celebrations, devotions or commemorations. The more we know about the other, the less mythical they would become forging a friendly environment for all of us to function effectively in whatever we do.
Misunderstanding leads to judgments, and judgments to prejudices and prejudices knocks out trust between individuals and members of the society – it is not easy to live a life without trust. It is not good for the individual, society or America.
You will be one of the few Americans who will have the working knowledge of different faiths to talk from a strong foundation of knowledge.   We are committed to one America, and together we will learn about as many faiths as we can.
Learn the essence of Hinduism in this 2 ½ hour seminar. You'll learn its values and how it contributes to the effective functioning of the society.  It is a part of 13 seminars for 13 religions in 13 months organized by the Center for Pluralism.
What is the Need to understand other Religions? 
By the end of 2020, there will not be a major city in America, and perhaps in the world, where you will not find people of different faiths, cultures, ethnicities, races, nationalities and social backgrounds working, eating, playing, marrying, and doing things together. This is bound to create conflicts.
As peacemakers and faith leaders, it is our duty to prepare fellow humans to deal with those eventualities to prevent possible conflicts, and lay a good foundation for nurturing goodwill and effective functioning of the societies.
Exclusive communities will become a thing of the past. If you live amidst others, you must also respect the otherness of others, as you expect them to do the same for you. Our goal is to bring people of different faiths together and provide a platform for them to share about their beliefs, their systems and rituals, while expanding the knowledge zone of each group.
The goal is to bring people of different faiths together and provide a platform for them to share about their beliefs, their systems and rituals, while expanding the knowledge zone of each group.
You are who you are, and I am who I am. As long as we don't mess with each other's space, sustenance and nurturence, and mind our own business, we all will do well. If we can learn to respect the otherness of other and accept the God-given uniqueness of each one of the seven billion of us, then conflicts fade and solutions emerge.
We are committed to building cohesive societies, where no human has to live in apprehension, discomfort or fear of a fellow being.
---
PRESENTERS
Giri Govardhana
Sri. Dasa is a priest at International Society for Krishna Consciousness of Washington D.C., where he teaches classes, courses, and seminars, and leads small group discussions. He also participates in inter-faith dialogues where he has found that when one gets past externals and enters into genuine dialogue, one gains not only understanding, but inspiration form those of other traditions. He encountered members of ISKCON while in college in 1980, and took up monastic life in 1992. After marrying in 2003, he and his wife have served as priests in ISKCON temples, in Detroit, and Philadelphia before coming to D.C.
Jay Kansara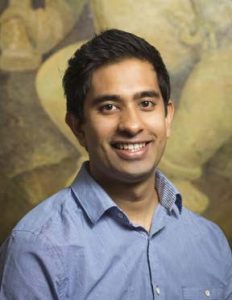 Jay Director of Government Relations based in Washington, DC, holds a BA in Government and Asian Studies from the University of Texas at Austin. He develops and maintains strategic relationship with leaders in public policy and in various fora, including congressional briefings, interfaith and human rights roundtable meetings, and official government functions. Jay testified before the House Foreign Affairs Committee on the plight of the Hindu minority in Bangladesh in April 2015. He also serves as the Foundation's liaison to the Hindu community in the greater D.C. area.
Mike Ghouse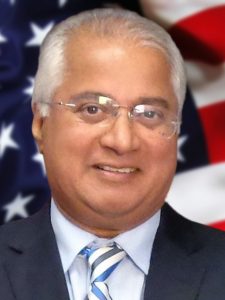 Mike is the Executive Director of the Center for Pluralism. He is a frequent guest on National TV,
syndicated Radio talk shows, and has published over 3000 articles on Pluralism, Interfaith, Islam, politics and foreign policy. He is a community consultant, social scientist, thinker, writer, news maker, interfaith wedding officiant, and a Public Speaker. He is dedicated his life to building a cohesive America and offers pluralistic solutions on issues of the day. All about him in 65 links at www.MikeGhouse.net
---

SEMINARS SERIES: UNDERSTANDING THE ESSENCE OF RELIGION
13 SEMINARS | 13 MONTHS | 13 TRADITIONS
Each month, we will explore a faith, the dates will be announced at www.CenterforPluralism.com/workshops
DON'T WAIT FOR THE GOVERNMENT, TAKE THE INITIATIVE
We hope each one of us would walk in with an open mind and an open heart towards understanding other faiths, and walk out feeling connected with our fellow beings who are different than us.  No matter what faith we believe, we have to live together, and as responsible citizens we have to create an environment for each one of us to live without apprehension.
It is difficult to shed the prejudices, but once we do, there is genuine freedom (Mukti, Moksha, Salvation, Nijaat and Nirvana.) in it.
We had tremendous success in the program before, and we hope to improve upon it.   A Scholar from the given faith/tradition will present the program moderated by Pluralist Mike Ghouse.  This is not about rituals or theology, but how each faith contributes to the well being of an individual and the society, how does it contribute to common good.  In the coming years, we will follow it up with theology and rituals aspect of each faith/tradition.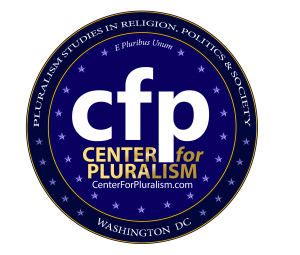 The Center for Pluralism is committed to promoting understanding between peoples of different religious affiliations.  We would like to thank the Church of Scientology National Affairs Office for hosting the series of events. In support of Article 18 of the United Nations Declaration of Human Rights, knowledge leads to understanding and understanding to acceptance and appreciation of another faith.  If we can learn to respect the otherness of others and accept the genetic uniqueness of each one of us, then conflicts fade and solutions emerge.
We hope the series of seminars will help one understand each faith tradition and respect for its contribution towards creating cohesive societies.
# # #