Saturday, October 14, 2023 – Accokeek, MD, a town about 15 miles from Washington, DC, witnesses the unveiling of the father of India's constitution, Dr. Bhimrao Ambedkar.
It was a pleasure for me to be here on this occasion of unveiling the statue of Dr. Bhimrao Ambedkar. I wanted to share many things, but I am glad everyone spoke about different aspects of Dr. Ambedkar's legacy. I will be sharing his legacy of Pluralism. Pluralism is respecting the otherness of others in religion, culture, ethnicity, and other aspects of life.**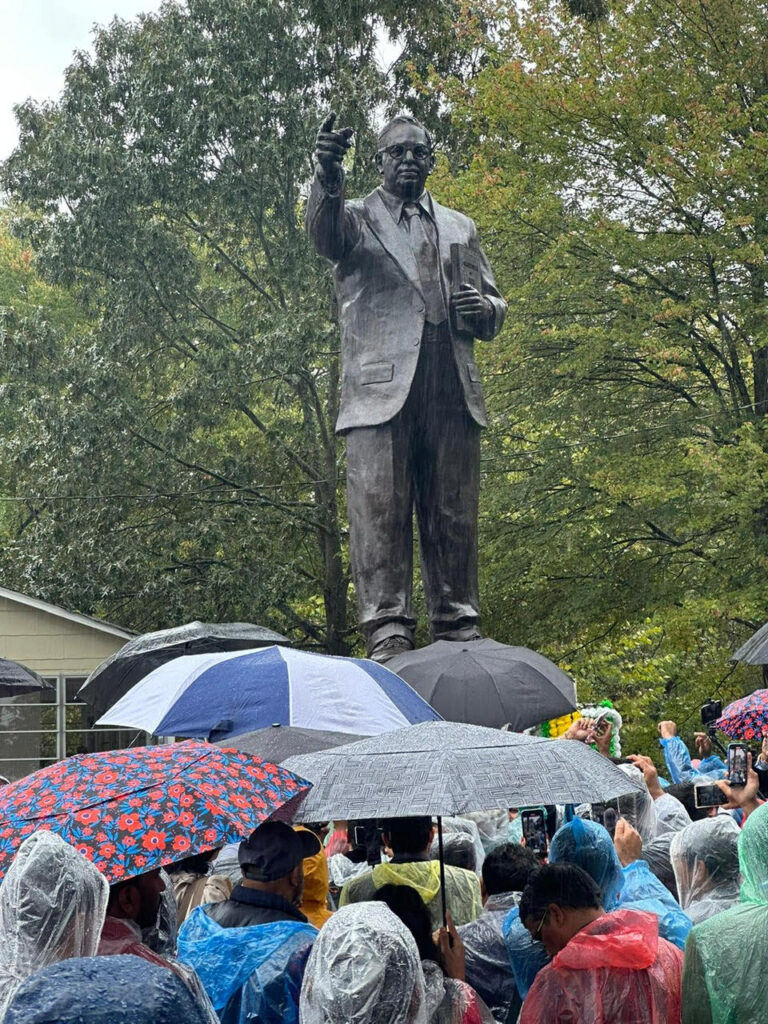 This year in January, we celebrated the Republic Day, honoring the father of India's constitution, and we plan to celebrate his contributions every year on the Republic Day.
Today, India is on everyone's mind; it has become one of the top 5 powerful nations in the world. Guess what?
Had we not gone on the path of Pluralism and put a solid democratic foundation by Dr. Ambedkar, we would not have achieved success. The constitution paved the way for every Indian to contribute towards its success; however, we are still far from achieving the perfect union.
PM Modi would not have had a chance if Ambedkar, Gandhi, Nehru, Patel, Azad, and others had not laid the foundation of a Democratic India. He must bow to them in gratitude.
Dr. Ambedkar's constitution is perfect, but its implementation could be better. In the humiliating years of the 50s and 60s after independence, our fellow Indian Dalits were discriminated against and mistreated in every sphere of life. Let me share my personal stories.
My father changed many practices in my town, Yelahanka, a suburb of Bengaluru. He was the only one in the town who invited Dalit workers into our home, and my mother would offer tea and food for them with the same utensils we used. They would sit in our home and eat; it was a no-no. Many of you have heard and witnessed such stories.
I have done my share of fighting for equal rights for the Dalits – at the street corner, we had a public tap where all of us would come to collect water. There were two lines, one for Dalits and one for all others. Dalits had to wait and not get their turn, and when they did, the next Brahmin would go and wash the tap several times; it was very humiliating to see that. So, I spoke up loudly that each line would take the turn equally. All it took was to speak up. No one argued but followed it. I could see the happiness on the faces of my fellow Dalit towners. I urge you to speak up whenever and wherever you see injustice to any human. That is all it takes to roll the change.
The change will come only when we speak up, and I am glad Dr. Ambedkar's statue here will remind us that we have a lot of work to do.
India is a diverse country; what connects us all is not the religion, culture, race, or ethnicity but what connects us all is the idea of equality, justice, and liberty enshrined in our constitution.
We are a nation of Adivasis, Bahais, Buddhists, Christians, Dalits, Hindus, Jains, Jews, Muslims, Sikhs, Zoroastrians and others.
We are proud of our heritage – a multi-faith, multi-cultural, multi-regional, and multi-linguistic society. India has been a beacon of Pluralism.
Dharma is when people get along, mind their business, live their lives, and let others live theirs. God has created all of us, and respecting each other is the highest form of worship.
Dr. Ambedkar showed the world how to include minorities and harness their skills in building a cohesive nation. The constitution he gave is a model for the world to emulate by having minorities in nation-building.
It was a joy to know so many of you have focused on education and uplifting the communities. It resonated with me as Muslims struggle to get up through education. For the Adivasis, Dalits, Muslims, and other down-trodden communities, education is the savior in the long run.
We all aspire to build cohesive societies where every human feels secure about their culture, tradition, ethnicity, language, or any other uniqueness. It was the dream of Dr. Ambedkar, who set the standards for Pluralism. I salute him and thank the Ambedkar International Center (AIC) for placing his statue to remind us that we have work to do for all humanity to be equal partners.
Jai Bhim.
*** One of the problematic things for me was Dr. Ambedkar's exclusion of Muslims; he excluded them from any reservations to uplift them as they are as downtrodden as the Dalits. The average Muslim wants nothing more than equal opportunity in every aspect of Indian life, as others have. We cannot change the past, but we can correct the future, where every Indian gets a lift to contribute their best toward nation-building. We all need to be a part of each other, so I attended the ceremony.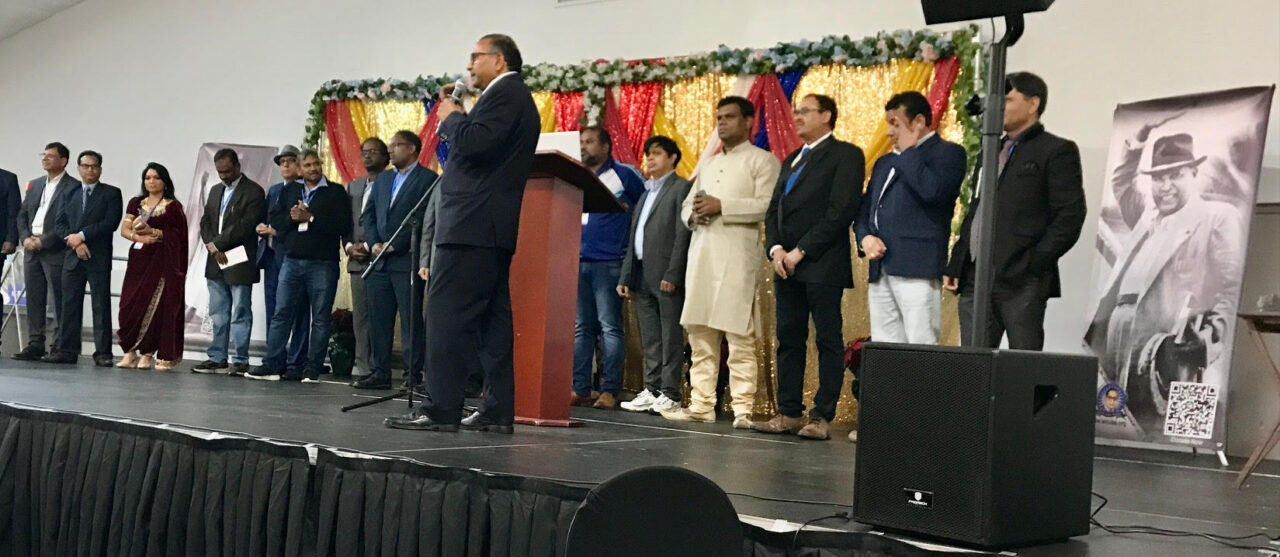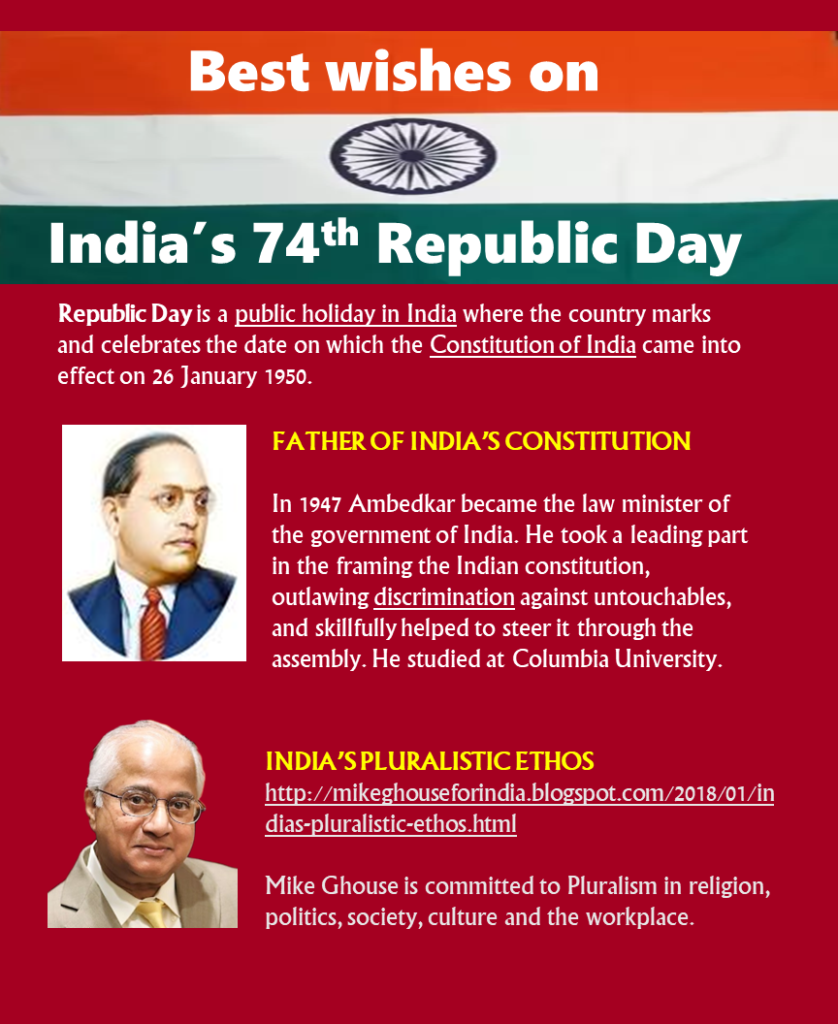 Dr. Mike Ghouse is a Social Scientist, Public Speaker, thinker, author, newsmaker, and Interfaith Wedding Officiant. He is deeply committed to Pluralism in Religion, Politics, Societies, Human rights, and religious freedom. He is the founder and president of the Center for Pluralism, Director at the World Muslim Congress, a think tank, and a wedding officiant at Interfaith Marriages. His new book, American Muslim Agenda is available on Amazon, and "Standing up for Others" and "Madame President" are coming soon. He is committed to building cohesive societies and offers pluralistic solutions to issues of the day. His mission is to open people's hearts and minds toward fellow humans. More about him at TheGhouseDiary.com