1. SUMMARY – CHANGING AMERICA'S MOOD
The following video has clips from Christmas, Hanukkah, Kwanza, Milad, Janamashtami and other great celebrations.  On the actual day of Festival of Faiths, Americans Together will celebrate their traditions.  We would like you to be a part of this event. Why are we doing this?
Sing? If your group likes to sing

[email protected]

Support? Please send an email to

[email protected]

Op-Ed? "Ask not what the President can do for us?" will be released soon
Browse? Tabs at  Centerforpluralism.com
Event? Celebrating America –Festival of Faiths on Sunday, 12/18 – 12 to 2 PM
Where? Jefferson Memorial, Washington, DC
Dr. Mike Ghouse is committed to building cohesive societies and offers pluralistic solutions on issues of the day. All about him in 65 links at www.MikeGhouse.net
Text Message to (214) 325-1916
---
2. DETAILED VERSION: CELEBRATING AMERICA
At this point in history, we are going through difficult times.  Whether you are on the right, left or the center, you are concerned about the liberties and freedoms of Americans.  The divisiveness, even though temporary, has caused us to lose trust in each other to function effectively as a nation.
So what can we do?
Our President John Kennedy had famously urged us, "Ask not what the country can do, ask what you can do for your country." and Professor William James had written, that our actions can change the moods.
Here is what we can to do to restore America where no Americans feels left out, but feels included in nation building.
Let's close 2016 on a positive note, let's come together as Americans, and celebrate our collective Festivals of Hanukkah, Christmas, Milad, Kwanza, Janamashtami, Gurpurab and the festivities of Native Americans, and other traditions including Atheist/Humanist. Each group will get to sing honoring their faith tradition.
 Festival of Faiths -Celebrating America
Date: Sunday, December 18, 2016
Time: 12:00 – 2:00 PM
Place: Jefferson Memorial
Address: 701 E Basin Dr SW, Washington, DC 20242
Who: It is simply Americans coming together to celebrate America.
Celebrating: Christmas, Hanukkah, Kwanza, Milad and other festivals
Organized by: Center for Pluralism
Supporting Organizations: If your organization would like to list as a supporting organization, and your group likes to sing a song of one of your festivities, please send an email to

[email protected]

by 12:00 December 13, 2016.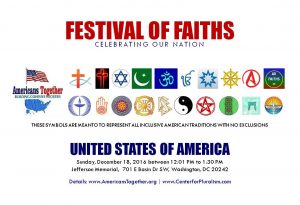 We hope small efforts like this will make our nation a secure home for each one of us.  We have too many good people not to let our nation slip and slide.
We fully understand and acknowledge the celebrations are done at different times of the year, but this event is geared for celebration of each faith, and not necessarily a specific festivity. It is Americans coming together to celebrate what is common to them all; Love of America.
Our intention is to include every one, and with the limited time we have,   we won't be able to reach out to everyone. However, we hope you would take the responsibility to invite everyone you know and, people of other faiths that you know to come aboard.
Every religious and non-religious group is welcome to share their joy of celebrating any one of their festivals, please register with us before December 13th to accommodate you in the schedule. The song has to be a group song comprising at least three people.
"Festivals of the World" is an educational series written by Mike Ghouse since 1993. When we live as neighbors, fellow workers, students, players, activists and inhabitants of the same city, it behooves us to learn about each other's moments of celebrations or commemorations. The more we know about the other, the less mythical they would become, knowing implies knowing them personally and not hearing from those who have gains to be had by pitting one against the other.   One of the best ways to build one nation with liberty and justice for all is to come together on all such occasions where we see the others as a fellow human.
Here are some write ups on different festivals:
Rabbi Michael Lerner writes the essence of Hanukkah in Tikkun Olam. "It is the holiday celebrating the triumph of hope over fear, light over darkness, and the powerless over the powerful."    In fact, the festivities of all traditions resonate with the above idea.
We have year round activities to volunteer.
Dr. Mike Ghouse is founder and president of Center for Pluralism aka Americans Together. He is committed to building cohesive societies and offers pluralistic solutions on issues of the day. Please visit www.CenterforPluralism.com about the organization, and about him in 65 links at www.MikeGhouse.net