Why should you learn about Christianity?
When we live as neighbors, fellow workers, students, players, activists and inhabitants of the same city, it behooves us to learn about each other's beliefs, motivations, moments of celebrations, devotions or commemorations. The more we know about the other, the less mythical they would become forging a friendly environment for all of us to function effectively in whatever we do.
Misunderstanding leads to judgments, and judgments to prejudices and prejudices knocks out trust between individuals and members of the society – it is not easy to live a life without trust. It is not good for the individual, society or America.
You will be one of the few Americans who will have the working knowledge of different faiths to talk from a strong foundation of knowledge. We are committed to one America, and together we will learn about as many faiths as we can.
Learn the essence of Christianity in this 2 ½ hour seminar. You'll learn its values and how it contributes to the effective functioning of the society. It is a part of 13 seminars for 13 religions in 13 months organized by the Center for Pluralism.
Program: Understanding Christianity
Date: Thursday, January 31, 2017
Time: 1:00 – 3:30 PM
Venue: The Church of Scientology National Affairs Office,
Address: 1701 20th Street NW, Washington, DC 20009
Refreshments will be provided
Presenter: Dr. Sel Harris**
Moderator: Dr. Mike Ghouse
Hosted by: The Church of Scientology National Affairs Office, Washington, DC
Presented by: The Center for Pluralism, Washington, DC
RSPV: https://www.eventbrite.com/e/christianity-understanding-the-essence-of-christianity-tickets-30942499850
PROFILES:
The Reverend Dr. Selden Harris Jr, BA MDiv, MPhil, PhD, Dipl Islamic Law
The Reverend Dr. J. Selden Harris, Jr. BA, MDiv, MPhil, PhD Dipl Islamic Law is a retired pastor
in the Presbyterian C
hurch (USA). He served churches in Virginia and Texas over a period of
30 years.
Sel (as he prefers to be called) is a native Virginian and calls Virginia Beach home. He
received his undergraduate degree from Hampden-Sydney College, his Master of Divinity
degree from Union Theological Seminary in Virginia, graduate degrees from the University of St
Andrews (Scotland), the Coptic Orthodox Theological Seminary (Egypt), and advanced
Diplomas in Islamic Studies from both the Islamic Education Center (Maryland), and the al
Khoie Center (New York). His areas of scholarship are in Islamic-Christian Dialogue, Syriac
Christianity in the Middle East, West African Religious History, and Shi'a Islamic History and
Thought.
For most of his life, Sel has been involved in Comparative Religious Dialogue. His interest
started as he was a part of an "Interfaith Study Group" at the University of St Andrews. The
group was made of Church of Scotland members on the Christian side and Iranian Muslims on the Muslim side.
He is a popular speaker in both Mosques and Churches. From 2002 – 2006, Sel, a Rabbi,
and an Imam served as hosts of a local Hampton Roads TV program called "Focus on the
Faith." A recent trip to the Islamic Republic of the Gambia increased his awareness of the
Islamic faith of enslaved Africans. In his last church, Sel helped the people to resettle a Shi'a
Muslim family from Baghdad to Virginia Beach. It was a grand exercise in Interfaith Witness.
In his work on Interfaith Dialogue, Sel uses the approach of two (2) Muslim scholars. The first
is the "Urubah" approach of the late Dr Ismail al Faruqi. The second is the "Perennial
Philosophy" approach of Dr Syed Hussain Nasr. A recent return trip to Cuba has increased his
interest in the possibility of "Moorish Muslim" descendants in Cuba!!
Sel and his wife Liz have been married for 35 years and live in Virginia Beach. They have
two adult children who live and work in Hawaii.
Dr. Mike Ghouse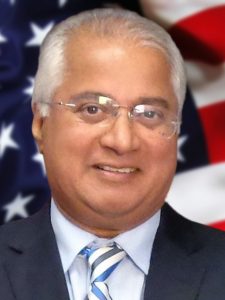 Mike is an expert in the subject of Pluralism and Interfaith understanding. He has written over 3000 articles and hosted 700 hours of Radio talk shows on understanding religion and its essence along with multiple workshops on understanding Religion, all the beautiful religions. He will be moderating the event.
Mike Ghouse
(214) 325-1916
Washington, DC
# # #
We hope the series of seminars will help one understand each faith tradition and respect for its contribution towards creating cohesive societies.
13 SEMINARS | 13 MONTHS | 13 TRADITIONS
Each month, we will explore a faith, the dates will be announced at www.CenterforPluralism.com/workshops