Sheikh Mohammad Abdullah's Reflections on Kashmir (New York: Palgrave Macmillan, 2018, forthcoming).
Dr. Nyla Ali Khan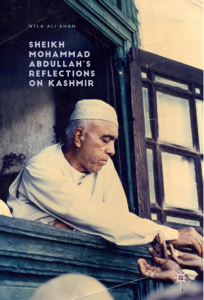 This book is a compendium of the speeches and interviews of Sheikh Mohammad Abdullah, who reigned as Prime Minister of the State of Jammu and Kashmir from 1948 to 1953, and who was a large presence on the political landscape of India for fifty years. The volume is designed to enable a student of South Asian politics, and the politics of Kashmir in particular, to analyze the ways in which experiences have been constructed historically and have changed overtime.
This book would comprise a collection of his speeches, interviews, and letters to other political personages in South Asia, plus some other material and commentary. The apparatus I will use is an Introduction (5000) plus prefatory setups/abstracts (1500-2000 words) of each item. I am driven to compile and edit his speeches, interviews, and letters from the late 1940s, 1950s, 1960s, and 1970s by my unquenchable desire to pursue intensive and thorough research on the political history of Kashmir through the lives of principal political actors, which is a work in progress, and, is by no means, near completion.
I am also motivated by a need to challenge distorted descriptions of the sociopolitical conditions and historical context that produced Sheikh Mohammad Abdullah. My attempt is not, however, to interpret history through the subjective lens of contemporary politics. I write about phases of populist and electoral politics in Jammu and Kashmir in a particular context. At this phase in the history of the state, when large parts of the life of Sheikh Mohammad Abdullah have been obliterated, I am intellectually invested in reconstructing my subject. Sheikh Mohammad Abdullah has been venerated and glorified as much as vilified, so I attempt to write about the public life of my subject with clarity, neither idolatrously nor iconoclastically.
About the Author
Nyla Ali Khan is Faculty at Rose State College, former Associate Professor at the University of Nebraska-Kearney, and Visiting Professor at the University of Oklahoma, USA. Dr. Khan is the author of three critically acclaimed books, including The Fiction of Nationality in an Era of Transnationalism, and the editor of a collection of essays on Kashmir. She is a native of Kashmir, and a native speaker of the Kashmir language.
Product details
Hardcover
Publisher: Palgrave Macmillan; 1st ed. 2018 edition (March 28, 2018)
Language: English
ISBN-10: 331950102X
ISBN-13: 978-3319501024
Product Dimensions: 5.8 x 8.3 inches
Shipping Weight: 1.7 pounds
Praise for the Book
"An important collection of Sheikh Abdullah's speeches and correspondence, it provides solid evidence for the distinctiveness of Muslim political thought outside the Pakistan Movement, which has generally been dismissed either as inconsequential or entirely dependent on the Congress. The volume forces us to reconsider the dualistic narrative which has dominated India's modern history until the present."
– Faisal Devji, Reader in Indian History, University of Oxford, UK
"This exceptional book should be taught at all institutions of higher learning in India and Pakistan, as it recuperates and reintroduces the erased voice of Sheikh Mohammed Abdullah, the founding father of a pluralist and progressive Kashmiri nationalism. For the Pakistani readers, Khan's book will provide a necessary and enlightening antidote to the often maligned and unjust representations of Sheikh Abdullah in the Pakistani media and historiography." Masood Ashraf Raja, Associate Professor of English, University of North Texas, USA
"Nyla Khan had done vital service to our understanding of the plight of the Kashmiri people by putting together the writings and speeches of Sheikh Mohammed Abdullah. Sheikh Abdullah – decades after his death – remains an important voice for justice and peace in the region. Any observer of the region who ignores his words will fail to grasp the possibilities for Kashmir's future."
– Vijay Prashad, author of No Free Left: The Futures of Indian Communism
"This book reflects Dr Nyla Ali Khan's meticulous intellectual engagement with the larger-than-life Kashmiri leader Sheikh Mohammad Abdullah who was much more than a politician. Abdullah opened up the possibilities of imagining a different Kashmir than what the nationalism projects of India and Pakistan dictated. His speeches, letters and interviews explain why Kashmiri voices have been subsumed by jingoism in the subcontinent – to deflect and undermine the inclusive and pluralist Kashmiri identity. This is an invaluable resource for students, researchers and all those who wish to understand conflict ridden subcontinent and its elusive Paradise called Kashmir."  Raza Rumi, author, journalist, and editor of Daily Times, Pakistan.
"This book is much more than a collection of "reflections" by Sheikh Abdullah: it provides a documentary foundation for a much fuller understanding of the Kashmir crisis today than could ever emerge from the current cacophany of partisan violence, repression, and propaganda. If a meaningful discussion of Article 370 of the Indian constitution ever resumes, this collection will provide a textual framework for its history, in which Sheikh Abdullah was surely the most thoughtful proponent of a solution to the still vexing and increasingly intractable problem of to how make the Government of India a caring custodian for the welfare and rights of all its citizens." Professor David Ludden, Chair of History, New York University, USA
"Nyla Ali Khan's record of publication stands in opposition to the erasure of Kashmiri history, and this latest and very welcome addition positions itself as a bridge between generations, preserving the writings of a role model for 'pluralism in the face of divisive politics.' Collecting the speeches of Sheikh Mohammad Abdullah between 1953 and 1976, Khan argues for a Kashmiriyat that, in his words, finds room for 'the freedom struggle of Kashmir" in the midst of (and not in opposition to) 'the independence movement of the Indian people.' Against monolithic nationalism Khan emphasizes that these mutual ideals are still realizable, and that the younger generation requires hope, beyond anger, and a practicality that can be recuperated from Abdullah's writings. As President of the South Asian Literary Association, I am impressed by this collection as a potential pedagogical tool in classes on the Partition, on border frictions, and contemporary nuances of nationhood and globalization."  John C. Hawley, Professor, Santa Clara University, California, USA
"Nyla Ali Khan's Sheikh Abdullah's reflections on Kashmir, passionately invokes Sheikh Mohammed Abdullah as one of the original voices in the high stakes debate on the right of the Kashmiri people to determine their own political future as an independent state. Planned as a compendium of the Sheikh's speeches from the 1930- to the 1970s, the book also functions, in effect, not just as the intellectual and political biography of one of the principal actors in the Kashmir issue, but also as a critical narrative that traces the origins of the "Kashmir issue" –its status as a disputed region claimed by both India and Pakistan over which three wars have been fought." Rajender Kaur, Associate Professor of English and Director of
Graduate Program, William Paterson University, New Jersey, USA
"This collection of Sheikh Mohammad Abdullah's speeches and letters is indeed an urgently needed work of recovering historical memory to resurrect the concept of Kashmiriyat, a species of cultural nationalism that recognizes and embraces the heterogeneity of the Kashmiri people in the cause of their right to self-determination. Guided by Professor Khan's lucid and eloquent preface, that explains the genesis and exigency of this work, and her informative and illuminating introduction establishing the historical context within which the great Kashmiri leader's words and ideas need to be understood and appreciated, the readers are presented with a treasure trove of political wisdom that seeks in its pluralistic approach not only ideological and cultural inclusiveness but also "unity among all socioeconomic classes" of Jammu and Kashmir. Among the foremost scholars on Kashmir in the world, Professor Khan is committed to the idea of a grassroots' social movement that finds its fulfillment in democratic political institutions. "I believe," she writes, "without a shred of doubt, that in civilized societies, political dissent is not curbed and national integrity is not maintained by military interventions." She confronts the political situation of her native land candidly and impartially, marshals the facts with skill, and presents her argument with rare clarity and perceptiveness. In more ways than one may imagine, she is the true heir of her maternal grandfather, the inimitable Sheikh Mohammad Abdullah, whose words come alive and find pertinence once again through her timely retrieval and persuasive advocacy." Waqas Khwaja, Ellen Douglass Leyburn Professor of English, Agnes Scott College, Georgia, USA
Dr. Nyla Ali Khan
"The oracle neither explains nor conceals, but shows by a sign." –Heraclitus
http://www.routledge.com/books/details/9780415803083/
http://us.macmillan.com/islamwomenandviolenceinkashmir
http://us.macmillan.com/theparchmentofkashmir/NylaAliKhan
http://worldliteraturetoday.org/2013/march/parchment-kashmir-history-society-and-polity#.USz3n-3TnIU
http://www.tandfonline.com/eprint/edinjnNGsEYJyhfiUvrv/full#.UmsrtRDVvIU
http://www.oxfordreference.com/view/10.1093/acref:oiso/9780199764464.001.0001/acref-9780199764464-e-0016?rskey=WPv3N6&result=171
http://wgs.publishpath.com/interview-with-nyla-ali-khan-from-oxford-islamic-studies-online
http://www.palgrave.com/page/detail/the-life-of-a-kashmiri-woman-nyla-ali-khan/?K=9781137465634