Many US Muslims are wary as armed anti-radical Islam protests were planned at over a dozen US mosques. Other Muslims see such protests as a rare opportunity to engage with skeptical Americans.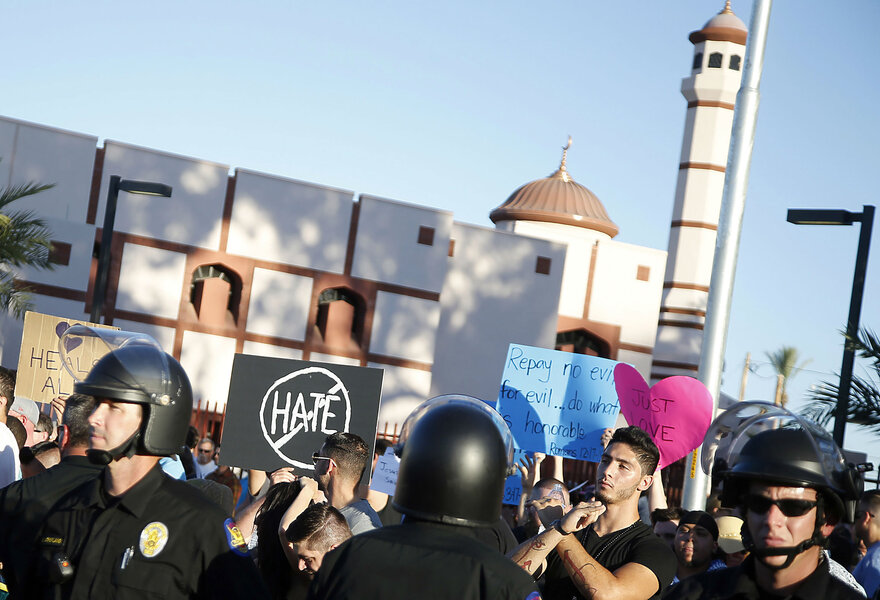 (AP Photo/Rick Scuteri)Anti-muslim and pro-Muslim protesters gather outside the Islamic Community Center of Phoenix, Friday, May 29, 2015. About 500 protesters gathered outside the Phoenix mosque on Friday as police kept two groups sparring about Islam far apart from each other.
By Patrik Jonsson Staff writer
Courtesy https://www.csmonitor.com/ Article Link : https://bit.ly/37nPL5n
Mosques in up to 20 US cities prepared for the arrival of armed "anti-mosque and pro-America" protesters on Saturday, raising concerns about potential violence amid heightened tensions over the growth of Islam in the US.
But at least one US Muslim saw the planned protests – dubbed the Global Rally for Humanity – as a "big opportunity" to build solidarity with Americans who have legitimate questions about Islam and Muslim culture.
Instead of "hiding," US Muslims should openly engage with protesters at the mosques, even serve them water and "kosher hot dogs," writes Mike Ghouse, a well-known moderate Muslim thinker and writer, in the Illinois-based The Arab Daily News.
Writing that immigrants to the US have always faced a "battery of tests" as they attempt to assimilate,  Mr. Ghouse points out that "inaction, isolation, retraction, silo-ing ourselves or hiding behind walls are not options for us; it simply prolongs the transition process and may inadvertently serve to intensify the sense of distrust that exists among a few."
He adds: "This is a big opportunity and we have to do it right to bring about the needed change."
The planned anti-mosque protests are the largest and most aggressive iteration yet of a new strategy by self-described "American patriots" who say they're concerned about the march of radical Islam into the heartland.
The protests have been organized through Facebook, some of which have restricted access. But it appears that protests will at least take place in Atlanta, Charleston, S.C., Dearborn, Ellicott City, Md., Florence, Ky., Louisville, Ky., Medford, Ore., Murfreesboro, Tenn., and Ocala, Fla.
In a Facebook post, organizer Jon Ritzheimer, an ex-Marine who has emerged as the leader of the movement, encouraged attendees to come armed "in case [protesters] come under that much anticipated attack."
"I want warriors by my side," Mr. Ritzheimer added.
According to the Southern Poverty Law Center, anti-Muslim rhetoric has increased in the US, exacerbated by political rhetoric ahead of a presidential election and the refugee crisis in Europe. The tensions come as the number of mosques in the US has increased from 1,200 in 2000 to more than 2,100 today, according to Hartford Institute for Religion Research.
"We've never had this many events targeting mosques in this kind of national way," Heidi Beirich, director of the Intelligence Project at the Southern Poverty Law Center, said in a conference call last week. "This is widespread in a way that these things have not been before."
Across the US, Muslims have been debating how to respond to the protests.
"In one of their emails, they said they were going to bring 3,000 people to Washington, D.C., in front of our mosque, and they instructed them to bring their weapons," Ibrahim Mumin, director of community relations for Masjid Muhammad mosque, told USA Today. "Well, we consider that kind of a threat."
The Council on American-Islamic Relations, the country's largest Muslim advocacy organization, urged Muslim leaders to ask for police presence and to take video of protesters.
Other officials urged Muslims to, in essence, ignore the protests.
"As we have learned from experience in the past, the best way for the average person in our community to handle these incidents is to ignore them," Dearborn Mayor Jack O'Reilly wrote Friday on the city's website. "The demonstration is not really a forum for honest dialogue, and anything that intensifies emotions will only intensify conflict.
In his commentary for Arab Daily News, Mr. Ghouse disagreed with the Dearborn mayor. He pointed out other recent protests, including one in May outside a Phoenix mosque, where Muslims engaged in what he called a productive dialogue with Ritzheimer.
"While it may be tempting, as American Muslims, we should avoid viewing anybody as our enemy out to get us," he writes. "While asserting our rights as American citizens, we will be well served by acknowledging that many citizens have questions about our faith and our books. As fellow Americans we should boldly address these questions and allay their fears. We have to come together as Americans and solve our problems together."