Native American Hospitality Day (not Columbus !)
October 9, 2017, Washington, DC – Today my friend Charles Stevens and went on Winter Nightwolf's Radio show about the Columbus Day.  The topic was changing the name from Columbus Day to Native Americans Day; I have added hospitality in it.
Thanks to Jay Winter Night Wolfe for producing the show at WPFW 89.3 FM Radio,  and the panelists were Dr. Verona Iriate, chief for Native American nations, Dr. E. Faye Williams President of African Women groups, Grand Daughter of Louis Farrakhan, Charles Stevens and Mike Ghouse.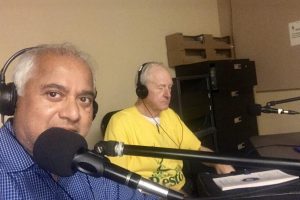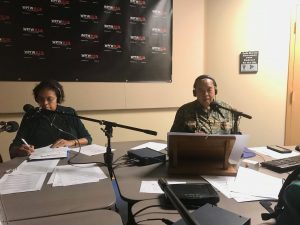 Do you remember Alexander the great movie? Who said he was great? The barbarian destroyed nations on his way; the movie poster had him standing in front of Farvahar, the Zoroastrian Symbol. The Zoroastrian community was upset with it, I had organized a drive to remove the symbol or Alexander from the poster, Zubin Mehta was involved too and finally the symbol was removed from the poster.  The Zoroastrians hate this guy for destroying their civilization. He is part of the history but not a great guy, great to whom?
Columbus was another ruthless tyrant, who returned the hospitality of the Native Americans by killing the Tainos people who greeted him. A day to honor him is uncalled for, we did not know better when we set that up, now that we know, we need to rename the day as Native American Hospitality Day.
A few states like Vermont and North Dakota have already replaced the name, and now it is DC's turn.  If a petition is needed, as an American, would you sign it?
Texas has its own Native America Heritage day, thanks to Peggy Larney for driving that, and Maryann Thompson-Frenk and I worked on getting signatures.  http://theghousediary.blogspot.com/2010/02/native-american-heritage-day.html
SOME OF MY WORK ABOUT NATIVE AMERICANS
There is a lot of work I have done along with the Native Americans, I am pleased to pull a few quick links
Religious greetings at the Native American event – dance included
https://www.youtube.com/watch?v=u27uKQm60iI&t=74s
Americans together – a documentary in making
https://www.youtube.com/watch?v=YMXsTo4VYh8
Feedback from Guests at Genocide event
https://www.youtube.com/watch?v=uneRYgYfgWI
Steve Melendez –President of Native American Genocide Museum
https://www.youtube.com/watch?v=wLCyx7Qlx7c
Ricardo Cerventes at American Genocide event
https://www.youtube.com/watch?v=fY_M8Tu4_GM&t=555s
Choctaw Nation Songs about Genocide
https://www.youtube.com/watch?v=JAO4lNtOAtA
Dakota Pipeline
https://www.youtube.com/watch?v=qG7iddH9M8E
Native American Heritage Day in Texas
https://www.facebook.com/notes/mike-ghouse/petition-for-native-american-heritage-day/323732092773
Texas American Heritage Day
http://theghousediary.blogspot.com/2010/02/native-am
# # #