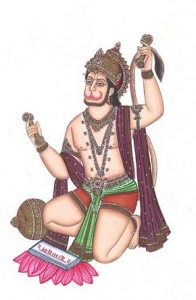 Hanuman is an iconic representation of valor, loyalty, and devotion expressed in the form of an animal; Monkey. He is called by many names including Anjaneya, Maruti, Pavanputra,  Kesharinandan,  Arbiter,  Anjaniputra, Bajrang Bali and Hanumat.
Hanuman plays a critical role in the Indian epic Ramayana. It is the story of King Rama who was banished to the forest for fourteen years. While in exile, he remains defacto king, as his younger brother Bharata who was the king, submits to the will of Rama, his elder step brother.
Rama is known for running a truthful and just kingdom called Ram Rajya. During the exile, Ravana, an evil man abducts Sita, Ram's wife and the search begins. It is here that Hanuman plays a crucial role in the story, he steps in to find the whereabouts of Sita and finally assists Rama in bringing her back home after a fierce battle with Ravana. Hanuman is said to be able to assume any form at will, wield rocks, move mountains, dart through the air, seize the clouds and rival Garuda in swiftness of flight.
The story is about valor, bravery, loyalty and commitment of Hanuman to Rama, it is also a narration of triumph of good over evil.
Last week Rama's birth celebrations took place and now this week in April, it is Hanuman's turn. Hindus honor him for his unflinching devotion to Rama and go to the temples and sing Hanuman Chalisa (songs).
In my town, a new Hanuman Temple was built not far from my home.  I had just finished my college. It was the initiative of a friend Anjaneya who and I traveled in the train to school. My father was one of the first ones to donate funds towards the temple.
Here around Dallas in 2006 or 7, a new Hanuman Temple was built in Frisco, and I had talked with my friend Mayor Mike Simpson to work on getting the permit to the temple and had shared a few tips with the organizers initially. The City of Parker (Next to Plano) had a history of denying permit to build the temple in the eighties and an Arabic school in Richardson in the Nineties… that is all the in the past. Thank God it is history now.
Wiki, "Hanuman Jayanti is an important festival of Hindus. Hanuman is the symbol of strength and energy.  He is worshipped in folk tradition as a deity with magical powers and the ability to conquer evil spirits."
My dream is to build a cohesive America, where none of the 312 Million of us have to live in discomfort, anxiety or apprehensions
Dr. Mike Ghouse is committed to building cohesive societies and offers pluralistic solutions on issues of the day. His book, the "American Muslim Agenda" is about Muslim earning their respectable space in the society. The book is available at Amazon, Xlibris, Google, Barnes and Noble, and Kindle. Mike's mission is to open people's hearts, minds, and souls towards each other. He believes that the ultimate purpose of humans is to live freely and be comfortable with their culture, race, religion, ethnicity, sexuality, and individuality. Mike is a public speaker, author, interfaith wedding officiant, a newsmaker and the executive director of the Center for Pluralism in Washington, DC. More about him in three formats at https://www.linkedin.com/in/mikeghouse/